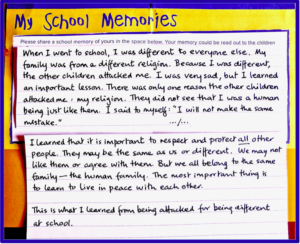 I sent this hand-written message to children in the Rohingya refugee camps on the Myanmar/Bangladesh border where the UN Refugee Agency is hard at work building makeshift schools out of local bamboo. More than half of the 742,000 people who fled there for their lives from what they call "Buddhist Terror" are of school age and in urgent need of education and support.
It is a grim irony that it was precisely for being a little Buddhist myself, that I faced taunts and harassment in the primary school I attended.

Many fear that this unresolved crisis is a "time-bomb" for devastating future conflict. The young people in the camps, many of them severely traumatised, have witnessed unspeakable horrors.  The possibility of future revenge was very much in my mind when I wrote to them about the need to respect and protect our human family.
There are  Voices of Courage speaking out against the brutal suppression of the Rohingya people in Myanmar — and asking us to help the hundreds of thousands of victims of this humanitarian catastrophe, now under international investigation for genocide.

When I was in the border camps with the survivors of these "killing fields", the desperate people I met there called this nightmare the "Buddhist Terror."
I tried to put what I witnessed into words:  Meditating on the Buddha in the Midst of Buddhist Terror .  It has since been published by Lion's Roar, one of the Buddhist world's most widely read online journals.
These people's villages were set on fire. They were shot as they fled. The soldiers threw their babies into the flames. The medical workers in the refugee camps are treating hundreds of women who have been raped and horrifically scarred by sexual cruelty.
Hearing their testimony was so unbearable to me as a Buddhist, my hands were trembling as I tried to hold my camera.
These people want the world to hear their story.
This time there is something we can do
We Buddhists have a special responsibility. We need to raise our voices against these atrocities, and make clear this violence is not being done in our name.  We need to do whatever we can to help the victims.
So often when we see devastating news reports, we have no idea how to help. Our sense of helpless makes the compassionate pain we feel all the more intense. This time, however, there is something we can do.

A worldwide Buddhist appeal has been launched. By adding your name you join hundreds of Buddhist leaders and teachers from 15 countries who are asking Myanmar's monastic leadership to defend Buddhist values and turn back the flood of hatred and violence.
"In the Dhamma there is no justification for hatred and violence," the appeal says. "Mean-spirited words and direct provocation stand in stark contradiction to monastic precepts and Buddha's teachings on universal morality, peace, and tolerance."
If ever there was a time to stand up to what is happening and say this, it is now.
Eye-witness visit
I visited the camp with an eye-witness delegation organized by the International Interfaith Peace Corps. I interviewed a doctor who was one of the first responders when the Rohingya began struggling through the mud from Myanmar to Bangladesh six months ago.

"There were bullet wounds, shrapnel and land mine injuries, limbs chopped off with machetes," he said. "There were people bleeding to death as they walked, kept alive only by their will to live. There were children whose entire families had been killed. They had simply panicked and fled with everyone who was escaping. There were hundreds and hundreds of women, injured and traumatized by sexual assault."
Helping the victims
The same appeal, launched by the newly-created Buddhist Humanitarian Project gives you an opportunity to make a generous heart-gift of essential supplies to these victims.

The most recent  assessment is that a billion dollars needs to be raised between now and June to sustain the huge humanitarian effort now underway. Much will be pledged by governments, but public donations are also needed.
Another doctor treating the victims said, "I have worked in war zones and refugee camps all over the world. In all my experience, I have never seen anything like this."
The Rohingya refugees fled their burning villages and the massacres with almost nothing. If they were carrying anything it was their children, their elderly and the wounded.
In the camp, there are thousands of orphans. Most of the ones I saw wandering around were naked. They – and everyone else – need food, clean water, clothing, urgent medical care and durable shelters.
This international appeal was inspired by the socially-engaged Zen Buddhist priest, Hozan Alan Senauke, vice-abbot of the Berkeley Zen Center. I have known him for many years and it was an honour to be on the delegation to the camps with him. He is the founder of the Clear View Project that provides Buddhist-based resources for relief and social change in Asia and the West.
Standing up to hatred and violence
This crisis is far from over. Journalists inside Myanmar are facing harassment, even death threats, for independent reporting. Two reporters for Reuters news agency were arrested for violating the country's Official Secrets Act after investigating evidence of a mass grave. More sites of mass murder are being uncovered.
A startling feature of this tragedy has been the inflammatory speeches by Buddhist monks in the country. As in so many other conflicts those inciting violence are a small minority – but a vociferous minority, with widespread impact.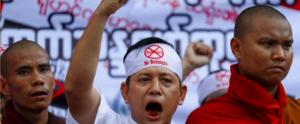 The most prominent, the monk Ashin Wirathu, was imprisoned for inciting racial hatred in 2003, then released under a general amnesty in 2012. That same year communal riots between Buddhists and Muslims erupted in the state of Rakhine, where the current crisis is unfolding.
The country's top monastic council, to which the Buddhist humanitarian appeal is addressed, last year banned Wirathu from giving sermons for a year, saying he would face "action under the rule of law" for any breach of the order. It also ordered his nationalist organization (Ma Ba Tha) to cease its activities. His followers, however, simply re-branded themselves and are continuing to use social media to spread their extreme nationalistic message.
Courageous monastics within the country are working to restrain the tide of hatred. They are cooperating with other faith leaders, intervening to stop outbreaks of violence, opening their temples to people of all communities fleeing attack, and running educational programs on tolerance and non-violence.
Some are speaking out. "If you want to protect Buddhism, you must abide by the rules of conduct set by the Lord Buddha," said a widely respected monk, Ashin Issariya, who recently attempted to hold a news conference critical of those fanning the flames of hatred. The event was disrupted by dozens of  "patriotic" monks. He received death threats and was told his monastery would be destroyed.
Ashin Issariya is one of the Voices of Courage.
The hallmarks of genocide
This catastrophe has not come out of nowhere. The Rohingya people, who include not only Muslims, but also Hindus and Christians, have lived in Myanmar for generations. They were stripped of their citizenship in 1982 by the country's fierce military government. They have faced apartheid-style repression, denied equal access to health-care, education, employment, religious freedom, travel and family rights.

What many predicted came to pass. A resistance group calling itself the Rohingya "Salvation Army" emerged. Last August they attacked 30 government security and military posts. In response the government said it needed to "wipe out the threat of terrorism." The government security forces announced "cleansing operations."
However, on this trip I learned from an credible source that Myanmar was already massing its military attack forces three weeks before either the guerrilla attacks or the government's terrorism announcement.
Within two weeks, the government said that nearly 40 per cent of Rohingya villages had been targeted by the army. Satellite imagery now shows the full extent of the devastation.  A staggering number of the Rohingya's villages have been burnt to the ground and bulldozed over. Their existence is being obliterated.
"I am becoming more convinced that the crimes committed bear the hallmarks of genocide," the UN Special Rapporteur on Myanmar, Yanghee Lee, told the UN Human Rights Council this month.
The government of Myanmar has banned Ms Lee from re-entering the country. The extremist monk Wirathu, who says he is defending his race and religion, has called her a "whore."

A ground-swell among the worldwide Buddhist family
As an eye witness to what has happened, I am asking you to read the Buddhist humanitarian appeal, sign it and give what you can to the humanitarian effort. If you wish, please share with any Buddhist friends and communities you may know.
If we can turn this inspiration into a ground-swell among the Buddhist family worldwide, this will offer powerful support to those working for peace inside Myanmar. And our offering of generous help for the victims will put our vows, our compassion and our vision into living practice.