World Buddhist leaders are appealing for peace in Myanmar and Buddhist charities are bringing aid to victims fleeing the violence.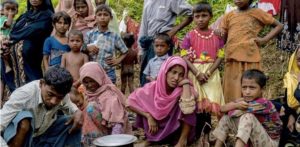 A Rohingya refugee family on the side of the road without shelter in Bangladesh Photo ©: UNCHR/Adam Dean.
Buddhist Global Relief, founded by one of the western world's leading translators of the Buddha's teachings, and the Tzu Chi (literally "Compassionate Relief") Foundation, launched by a renowned Taiwanese Buddhist nun, are both dedicating relief resources to what UN Secretary General Antonio Guiterres has called "a humanitarian and human rights nightmare."
The United Nations and major aid agencies now report that more than half a million people – mainly women, children and the elderly – have fled over the border between Myanmar (also known as Burma) and Bangladesh since late August. Thousands more continue to flood in every day. 
The exodus is the fastest exodus of human beings from a single country since the outbreak of the Rwandan genocide. The vast majority are members of Myanmar's Muslim Rohingya, caught up in a violent conflagration that, according to the country's security forces, includes official "cleansing operations". The military said 176 out of 471 villages had been emptied of people, and an additional 34 villages "partially abandoned."