In 1995, Sting (who had been a headliner on the 1988 Human Rights Now! World Tour, which Reoch coordinated for Amnesty International) asked him to assist in the re-organization of The Rainforest Foundation, originally established in 1989. From 1996 to 1998, he served as Chair of the Executive Committee of The Rainforest Foundation International, and afterwards as a trustee (1999 – 2015) of The Rainforest Foundation UK.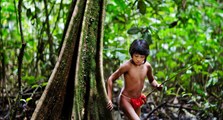 The rainforests of the world are under increasing pressure from agro-industrial expansion, extractive activities, infrastructure development and industrial logging. They are also home to millions of people.
Indigenous and forest populations living in and around the rainforests depend on the forests for shelter, food, medicine and livelihoods. In many cases, the basic rights of these people are threatened or undermined by forest destruction, land theft and resource exploitation.
The Rainforest Foundation works to ensure the long-term protection of rainforests by securing the rights of indigenous and forest peoples to land, life and livelihood. It works in 21 countries and across four continents, supporting hundreds of communities. Significant evidence shows that, where forest communities have gained legal title to land, levels of deforestation and forest destruction are far lower even than in strictly protected areas such as national parks. To date, the foundation has protected over 11,700,000 hectares of rainforest following this approach.