I am an eyewitness to the humanitarian catastrophe of the Rohingya people.  They are fleeing for their lives from what they call the "Buddhist Terror".  I was part of an interfaith delegation that visited them in the refugee camps on the border of Myanmar and Bangladesh. The first short film on this page  is my on-the-spot footage.
I was invited to give an eyewitness report to the Hillary Clinton Center For Women's Empowerment at Morocco's Al Ahkawayn University. The university's mission is to promote  "the values of human solidarity and tolerance".  You'll find highlights from the event as well as the full talk, with questions and answers, further down the page.
On-the-spot footage
Eyewitness to the Rohingya: highlights

Nothing could be further from the Buddha's teachings
Did you tell them you were a Buddhist?
Your values as a human being
Have you lost faith in humanity?

The full Eyewitness report
      Part One: The "Buddhist Terror"

      Part Two:  The Women, Trauma and
                            Controversy

      Part Three: What we can do right now

      Part Four: Questions,  Answers and our
                            Common Humanity

The Buddhist Humanitarian Project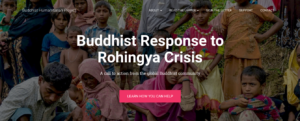 The Buddhist Humanitarian Project is organizing a worldwide appeal by the international Buddhist community, calling on the monastic leadership in Myanmar to uphold Buddhism by taking a strong stand against hate speech and ethnic cleansing. The appeal also calls on the government of Myanmar to protect vulnerable communities of all religions and ethnicities, and on the UN to ensure the safety and survival of the Rohingyas. The project enables people to make donations to the respected humanitarian agencies working on the frontlines of this catastrophe.  Please read the appeal, sign it, and give generously.
The UN refugee agency at work

I wanted to meet and thank the UN Refugee Agency (UNHCR) for the work they are doing. Luckily, I spotted something in the distance while I was in the camp with my camera. It was such an amazing sight.