This page contains a series of short presentations on mindfulness. It includes links to articles, videos and other materials presented as part of the course on Mindful Leadership during the Summer Semester of the School of Business Administration at Al Akhawayn University in 2016 at Ifrane, Morocco.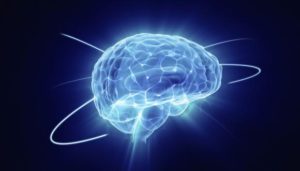 Opening presentations on mindfulness
These materials are designed for use in introducing the practice of mindfulness to faculty, staff, and students.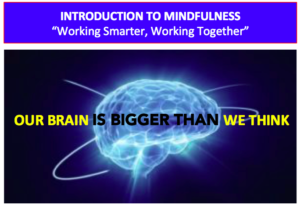 Our brain is bigger than we think  This brief presentation of key highlights examines the growing interest in mindfulness, presents current research by neuroscientists, and describes how the practice of mindfulness is helping people in an increasingly stressful world. (7:58)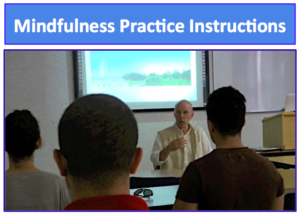 Mindfulness practice instructions  This guided practice was filmed during the university's Mindful Leadership class. It is ideal for people who want to receive the fundamental instructions for mindfulness practice. You are guided through each of the basic points and can do a brief period of practice with the class. (10:06)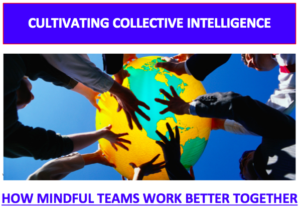 Cultivating collective intelligence  This condensed presentation helps us understand our stress patterns, introduces an on-the-spot practice that breaks the stress cycle, and begins to explore how we start to cultivate collective intelligence in working and communicating with others. (9:13)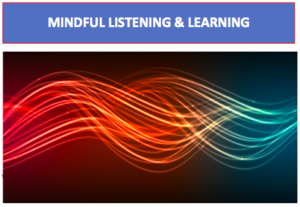 Mindful Listening and learning  This brief presentation sets out the instructions for a guided experiment in mindful listening and learning. You can follow the instructions, either with a partner or in a group. The experiment normally takes about 10 minutes.  (4:00)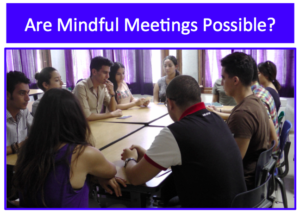 Are mindful meetings possible?  This  step-by-step presentation takes you through the essential elements of applying the principles of mindfulness practice to conducting a group discussion or meeting in a way that creates focus and precision, encourages insight and creativity, and enables the participants to be clear about both the process and outcome of working together. (7:28)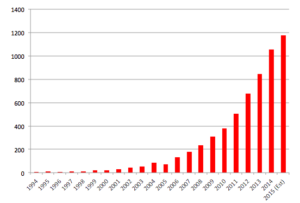 Reseach and other articles on mindfulness
A1. The Neuroscience of Mindfulness.  A straightforward introduction to ground-breaking research into the way our the two principal neural networks of our minds work.
A2. This is your brain on mindfulness.  People who study and apply mindfulness  say their practice fundamentally changes the way they experience life.
A3. Mindfulness – Multiply Productivity Through Undivided Attention.  This article reviews the results in companies who run workplace mindfulness programs. Those who participated  Mindful Leadership at Work training optimize their personal productivity.
A4. Why Neuroscience Matters to Executives.  One of the biggest challenges organizations face is constant, disruptive change. Neuroscience shows how the human brain uses mental resources to deal with ambiguity, conflict, and complex problems.
A5. Why the modern world is bad for your brain.  In an era of email, text messages, Facebook and Twitter,  using technology in an attempt to "multi-task" is taking its toll.
A6. Brain's Perception of Time.  A stopwatch on the brain's perception of time. Neuro-physiologists shows that our emotions affect our awareness of the passing of time.
A7. Synchronicity and mindfulness are keys to effective time management.  There's more to scheduling your time than setting priorities and filling in blocks in your calendar. In fact, the time you leave blank may be the most important time of all.
A8. Mindful listening dialogue list.  This work-sheet alerts us to what we do inside our heads when we think (or pretend) we are listening — and what mindful listening really is.
A9. Emotional Intelligence of Groups chart. This chart expands on the practical suggestions in the preceding article "Building the Emotional Intelligence of Groups".
A10. Brief Mindfulness Training May Boost Test Scores, Working Memory.  Mindfulness training may help to boost students' test scores and improve working memory, according to a study in Psychological Science, of the Association for Psychological Science.
A11. Managing with the brain in mind.  Neuroscience research is revealing the social nature of the high-performance work place.
A12. Things Science Taught Us About Happiness.  For decades, psychology aimed to alleviate depression, chronic anger, and anxiety. Now we understand that traits like empathy and happiness are skills we can consciously develop over time.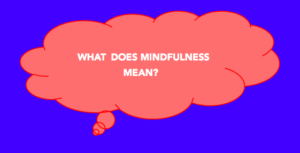 Course Powerpoint Presentations (selection)

PP1.  Course Introduction   Applying the basic findings of neuroscience research and mindfulness in leadership.
PP2.  Attention Network Test Introduction Assessing three essential networks, all affected by mindfulness.
PP3.  Post Attention Network Test Explanation  How the Attention Network test functions to assess efficiency of our alerting, orientation and executive control networks.  Now more than 3,000 published studies on mindfulness with major world corporations using it to unlock their leaders' and workers' potential.
PP4.  What Mindfulness Means  The experience of being fully present.
PP5.  Getting To Know Our Brain  Our brain is bigger and more complex than we think.
PP6.  The Total System and The Two Networks  Our brain is part of a total system of billions of neurons. Two the systems main networks are The Default Network and the Direct Experience Network.
PP7.  Our Brains Change  Neuroscience has discovered that, contrary to what people have believed, our brains can change at any point in our life as we develop new neural pathways or change our habits of thought and behaviour.
PP8.  Stress  What is stress? How does stress help us? What happens when persistent stress begins to be destructive?
PP9.  Multiple Simultaneous Demands  What happens when we attempt to "multi-task". What really goes on in our nervous  system?
PP10.  Making up your mind  How the process of mindfulness helps us in making  decisions with clarity of mind. Ten tips to experiment with.
PP11. Which Network?  Can you tell which of the two networks — our Narrative Network or our Direct Attention Network — people are using?
PP12.  What are our emotions?  Our emotions are our lived experience of the constant changes in our complex system state.
PP13. Accessing and working with our emotions  Working mindfully with our emotions gives us direct access to vital information about our state of being, and empowers clear decision-making.
PP14. Positive Emotional States  Our mental states are relatively independent of external factors. We can influence our own state of mind , which has a powerful effect on our work, relationships and effectiveness.
PP15. Our Social Brain  We grow up entirely in a social environment! We depend heavily on others for our survival. We always learn in a social environment.
PP16. Sending and receiving signals  Mirror Neurons. Perceiving what others are feeling. Understanding the intentions of others. Learning languages. Learning to Listen.
PP17. Are we really listening?  We may want to understand others and help them, but we create our own obstacles to this that prevent us really listening.
PP18. Deep Listening  Deep listening develops key leadership skills.
PP19. TIME  It may not always be possible to manage time, but it is often possible to manage our attention.
PP 20. Being in the Zone  The mental state of operation in which a person performing an activity is fully immersed in a feeling of energized focus, full involvement, and enjoyment in the process of the activity.
PP21. Are mindful meetings possible? Are mindful meetings possible? Apply the principles of mindfulness.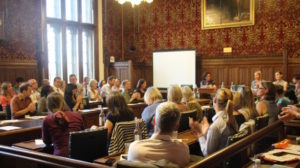 Mindfulness and Social Policy

Mindful Nation UK. The report of the UK's All-Party Parliamentary Group on Mindfulness. It presents the findings of members of both chambers of the country's parliament and recommend application of mindfulness training in the fields of education, health care, the workplace and the criminal justice system. The parliamentary group's secretariat is The Mindfulness Initiatve.
Understanding and Responding to Social Demands on Corporate Responsibility.  INSEAD, the leading international business school, and the European Academy of Business in Society (EABIS), together with Copenhagen Business School, Bocconi University, the Leon Kozminski Academy and IMPACT,  conducted Project RESPONSE, a unique, three-year, European Union -sponsored global research project on Corporate Social Responsibility. The results, published in 2007, presented evidence-based knowledge of how companies can better align their managers' decisions and behaviour with the role society expects of them. The report's recommendations included: "Changing fundamentally the way managers are educated, including a shift from standard, awareness-building, executive development approaches to deep introspection and inner change coaching processes."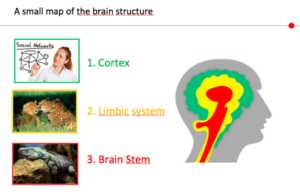 Videos on Mindfulness and Neuroscience
V1. Hack Your Brain's Default Mode with Mindfulness.  Dan Harris, a news correspondent for the US network ABC, took up mindfulness practice after a live, on-air panic attack. He explains the neuroscience behind mindfulness.
V2. How the brain works.  This short film introduces you to the most fascinating part of your body – the brain. It is every individual's most important performance tool.
V3. Areas of the brain.  This animation takes us through the three regions of the brain and shows how they interact as we experience the world.
V4. What Mindfulness actually means. New York Times writer, David Gelles, interviewed about the power of Mindfulness at the Davos World Economic Forum where business leaders gather annually from around the world.
V5. What is Mindfulness?  With JusTme.   Hip hop artist JusTme does a spontaneous introduction to mindfulness.  He goes through the definition of mindfulness, why mindfulness is beneficial to us and why we should practice it. Then he leads us in a short mindful practice. "Be mindful, Be you, and Be easy," he says.  (This is a full introduction and practice lasting 24 minutes.)
V6. Three Myths About Mindfulness Meditation That Keep People From Its True Benefits.  Mindfulness can be harnessed to improve your business career by re-teaching your brain how to focus.

V7. Limitations of the brain.  How our brain filters and pays attention to all the information coming in from our five senses.
V8. Neuroplasticity.  How our most complex organ is capable of changing throughout our lives. This animation demonstrates how we all have the ability to learn and change by rewiring our brains.
V9. How NBA Coach Phil Jackson taught his teams mindfulness.  TV superstar Oprah Winfrey asks the legendary coach of winning basketball teams why he used mindfulness practice to boost his teams' chances of victory.

V10. Mindfulness: what is it?  Excellent overview of Mindfulness Practice from  Harvard Pilgrim Health Care. Also provided a guided Body Scan practice.

V11. Conscious vs subconscious thinking.   How our brain operates — at conscious and subconscious levels. How our attitudes, habits and memories form. How our precious brain saves energy.
V12. Mindfulness is observing your thoughts.  Dr Jon Kabat-Zinn, Professor of Medicine Emeritus at the University of Massachusetts Medical School, explains the difference between having thoughts and having awareness.
V13. Mindful Breathing and Listening With JusTme.  A guided mindfulness practice session with JusTme — the Mindful Hip Hop Artist. You can practice live with him, and also check out his sound on The Cloud: https://soundcloud.com/justmindfulness
V14. Why Mindfulness is a super power.  Mindfulness and road rage – a brilliant animation that shows what mindfulness can accomplish in traffic!
V15. Mindfulness meditation melts away work-related stress.  US TV news report on mindfulness expert teaching MBA students to help them cope with stress, now and in their future roles as business leaders.
V16. What is mindfulness?  Dr Jon Kabat-Zinn, one of the world's leading medical experts on mindfulness, gives us a basic explanation of what mindfulness is and how it works. Professor Kabat-Zinn is the founder of Mindfulness Based Stress Reduction (MBSR), offered by medical centers, hospitals, and health maintenance organizations worldwide.
V17. Mindfulness: Youth Voices. This video features youth and young adults discussing their experiences practicing mindfulness, and how mindfulness has benefited different aspects of their lives. The video also features youth practicing mindfulness, and includes insights from a health professional and mindfulness teacher.
V18. Mindfulness: Just becoming aware of something changes its nature.  Our brains are  often inhibited by aversion, apprehension, greed, and fear. Mindfulness exercises can help change that. Professor Jon Kabat-Zinn explains how we can combat our aversion, fear and other intense feelings and work with these sometimes overwhelming tendencies.
V19. Think You're a Good Multitasker? Stop Lying.  News Correspondent Dan Harris explains why anyone who boasts about their ability to multitask is lying to themselves. "We literally neurologically cannot do more than one thing at a time," says Harris, who instead defines what we consider multitasking as "doing many things poorly."
V20. Can Mindfulness increase profits?  BBC news reports that among all the talk about boosting the global economy at the World Economic Forum in Davos, "mindfulness" crept onto the program for the first time.

V21. The case for mindfulness at work.  As people working in business, medicine and politics actually practice mindfulness, they become less stressed, better able to focus and more kind and compassionate.
V22. Mind the Bump: Mindfulness and how the brain works. Ninety per cent of the brain's activity occurs beneath conscious awareness.
V23. The Science of Mindfulness. "When people train in mindfulness, one of the things we see is the brain patterns changing, " says Professor Mark Williams of the Oxford University Mindfulness Centre.
V24. Mindfulness therapy as good as meds for depression treatment. TV report on discovery that mindfulness is as effective as antidepressant drugs in preventing a recurrence of depression..

V25. How mindfulness empowers us.  "I have two wolves fighting in my heart."
V26. Mind the Bump – Mindfulness vs Mindlessness. This is a brilliant, short animation that conveys the essentials and benefits of mindfulness practice, as well as what it's like to be mindless — and the downside of  not being fully present!
V27. Good leadership is contagious. Harvard Business Review on research that shows not only that good leadership is contagious, so is poor leadership!

V28. Listening skills.  Everyone needs to learn how to be a great listener. Now more than ever with the noise of technology, it's essential. This video was prepared for young people in America to halep them learn to listen — and what that means.
V29. Listening skills – customer training. This video is part of a series produced by the Telephone Doctor®, a customer service training company.  The training is used by organizations and call centers worldwide to improve their service to clients and customers.
V30. The Most Valuable Skill that Nobody Teaches: How to Listen.  Director Tom Yorton explains why listening is paramount to good business and offers a great practical exercise for developing "listening all the way through". He leads "Second City" — one of the world's top comedy theaters and schools of improvisation — which does unique training for Fortune 1000 companies.
V31. Develop deep empathy.  This short presentation places the development of deep empathy with a company's customers as the highest priority skill for unlocking  innovation potential.
V32. Enliven Your World with Mindfulness. Harvard Business Review interviews Ellen Langer, professor of psychology at Harvard University, on why we need to stop operating on auto-pilot.

V33. Mindfulness: Gratitude revealed.  A series made  with the University of California Berkeley's Greater Good Science Center to provides scientific insights on mindfulness.

Books on Mindfulness, the Brain and Communication

 Mindfulness – a practical guide, Tessa Watt, Icon Books, London, 2012, ISBN:978-184831-255-5
Your brain at work, David Rock, Harper Business,, New York, 2009, ISBN: 978-0-06-177129-3
Turning the mind into an ally, Sakyong Mipham Rinpoche, Riverhead Books, New York, 2003, ISBN: 1-57322-206-2
Mindfulness – how to live well by paying attention, Ed Halliwell, Hay House , London, 2015, ISBN: 978-1-78180-264-9
The mindful manifesto, Jonty Heaversedge, MD and Ed Halliwell, Hay House, London, 2010, ISBN: 978-1-84850-194-2
 Mindsight, Daniel Siegel, MD, Oneworld Publications, Oxford, 2010, ISBN: 978-1-85168-761-9
The five keys to mindful communication, Susan Gills Chapman, Shambhala, Boston & London, 2012, ISBN: 978-1-59030-941-4

Emotional intelligence, Daniel Goleman, Bloomsbury Publishing, London, 1995, ISBN: 0-7475-2830-6
My stroke of insight, Jill Bolte Taylor, Hodder & Stoughton, London, 2008, ISBN: 978-0-340-98050-7
Happiness – a guide to developing life's most important skill, Matthieu Ricard, Little, Brown and Co, New York, 2006, ISBN: 978-1-84354-558-3
The practical neuroscience of buddha's brain, Rick Hanson MD & Richard Mendius MD, New Harbinger Publications, Oakland, CA, 2009, ISBN-13: 978-1-57225-695-9
The Invisible Gorilla: How Our Intuitions Deceive Us,  Christopher Chabris & Daniel Simons, Broadway Paperbacks, New York, ISBN: 978-0-307-45966-4
Research papers on Mindfulness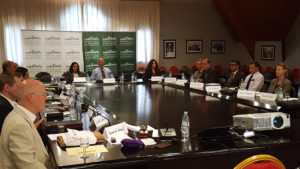 Additional Resources
The Mindful Leadership Class. Glimpses of the summer mindfulness leadership class at the School of Business Administration, with students' statements about what it was like and what they learned.
Three words in answer to the question: What is Mindfulness? Presentation on mindfulness to the heads of departments within the Office of the Dean of Student Affairs at Al Akhawayn University. Includes short guided mindfulness practice. The session was conducted in both English and Arabic.