Sometimes, at the moment of death, a human being becomes immortal. Their spirit triumphs over their mortality. Thus it was this week for the tortured keeper of the treasures of the ancient city of Palmyra.
Three months ago Islamic State fighters overran it.
This week, Khalid al-Assad, the 82-year-old archaeologist who was instrumental in the effort to save the site's priceless antiquities, was publicly beheaded and his headless corpse hung from the remains of a Roman column.
He endured torture for a month, but still refused to disclose where the city's sacred relics had been hidden.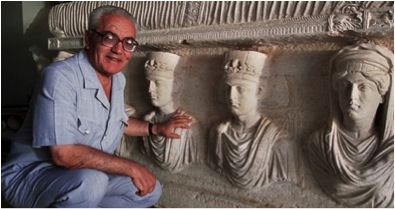 "His work will live on far beyond the reach of these extremists," said UNESCO's Director-General, Irina Bokova. "They murdered a great man, but they will never silence history."
Before being seized and tortured by Islamic State, he was urged by fellow archaeologists in the Syrian capital, Damascus, to flee for his life. He is reported to have told them he was born in Palmyra, had devoted his life to the world heritage site and would die there.